American Holocaust has Been Prepared
The US military is hiring concentration camp guards for civilian detainees. U.S. Detention Camps political prisoners have been built all over the USA. NDAA S.1867 has passed making it posssible to arrest Americans without any charge, and to detain them indefinately without any trial. The federal government is gathering intelligence to confiscate food supplies.

The "Police State" Special Edition Issue of The New American magazine. (Fall/Winter 1994)
The cover shows an ATF agent, in camouflage, and carrying an assault rifle. He is wearing sun glasses, and has a piece of tape over his badge number.
Here is what Ron Paul told the House of Representatives about this Building of Tyranny:

What every citizen should know. What every cop should believe. "To serve and protect" – This time-honored mission statement of American law enforcement is steadily giving way in police departments all across the nation to an ethos of intimidation, military-style siege, and disdain for citizens' rights. Richard Mack – the man who as sheriff of a rural Arizona county fought the Brady Bill gun-control law all the way to the Supreme Court and won – gives us an insider's glimpse into the pervasive forces that are relentlessly driving America towards a police state. In almost confessional style, he recounts how he came to realize, while working as a beat cop, how wrong the all-too-common orientation of police officers is when they think of their job as being "to write tickets and arrest people." Richard Mack tells of his personal transformation from "by-the-numbers" cop to constitution-conscious defender of citizens' rights and freedoms. This book is a wake-up call for all law-enforcement officers. It is a must-read for every man and woman wearing a badge. If you have a friend or relative in law enforcement, make sure you get a copy into their hands. You'll be shocked to learn just how far American law enforcement has strayed from its mission.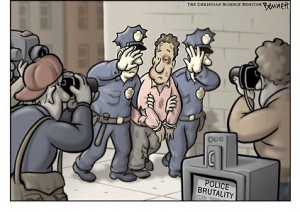 Do you remember when it was the people,
who were being arrested, who hid their faces?
Do you remember when you used to feel safer because police were present?
Why will Obama need foreign troops to impose martial law?
Military and law enforcement personnel are organizing to resist illegal orders to impose tyranny.
LOCAL GOVERNMENT can be a defense against central tyranny. 
Alert your local representatives and police.
Ask them to protect your civil liberties.
Our county Sheriff's have the same obligation, and we all need to contact our local departments and remind them of their duties and the oath they are sworn to uphold.
For details visit:
Sheriff Mack The Power of the County Sheriff
The County Sheriff: America's Last Hope (Paperback) by Sheriff Richard Mack
http://www.youtube.com/watch?NR=1&v=XeCpLcjxOq4&feature=endscreen  
Sheriff Mack's latest book covers decades of research to prove once and for all that the sheriffs in this country are indeed the ultimate law authority in their respective jurisdictions. The sheriff absolutely has the power and responsibility to defend his citizens against all enemies, including those from our own Federal Government. History, case law, common law and common sense all show clear evidence that the sheriff is the people's protector in all issues of injustice and is responsible for keeping the peace in all matters. He is the last line of defense for his constituents; he is America's last hope to regain our forgotten freedom. This short but powerful book is a must read for all citizens, sheriffs, and government officials that we may all work to return America to the constitutional republic she was meant to be. Amazing as it might be, the sheriff can make this happen!
Senate Passes NDAA S.1867-"93 to 7" Allowing the U.S. Military to arrest U.S. Citizens in the USA without charges and hold them indefinitely without the Right to a Trial, Making America a Police State! Watch and Pass these links on if you value Freedom: 

http://www.google.com/news?q=ndaa+S.1867&hl=en