911 WITNESSES MURDERED?
OR
There are many, many 9-11 witnesses from network chopper pilots, 9-11 widow and victims leader for 9-11 truth, to DC Madame who was interviewed nationally with information on CIA connections to 9-11, to babysitter for Marvin Bush, director of the Kuwait/Saudi backed company responsible for twin towers security.
9/11 Key Witness Murdered? (Barry Jennings R.I.P.)
The Mystery of 9-11, Dr. Graham and Jamal Khan
ABC New: Beverly Eckert, Sept 11 Widow Dies in Fiery Buffalo Flight 3407 Crash:
9-11 Review  (story on ABC chopper pilot who witnessed 9-11 crash of 2nd bldg.
Fairfax County Police Report on Bertha Champagne/Marvin Bush and the President Bush videotape
David Rockefeller, Trilateral Commission Founder:
"We are grateful to The Washington Post, The New York Times, Time Magazine and other great publications whose directors have attended our meetings and respected their promises of discretion for almost forty years. 
It would have been impossible for us to develop our plan for the world if we had been subject to the bright lights of publicity during those years.  But the work is now much more sophisticated and prepared to march towards a world government.  The supranational sovereignty of an intellectual elite and world bankers is surely preferable to the national auto determination practiced in past centuries." 
–1991
Henry Kissinger:
"Today, America would be outraged if UN troops entered Los Angeles to restore order.  Tomorrow, they will be grateful!
This would especially be true if they were told that they were a outside threat from beyond, whether real or promulgated that threatened our very existence. 
It is then that all peoples of the world will plead to deliver them from this evil.
The one thing man fears is the unknown.  When presented with this scenario, individual rights will be willingly relinquished for the guarantee of their well-being granted to them by a World Government."
–1991
IMAGE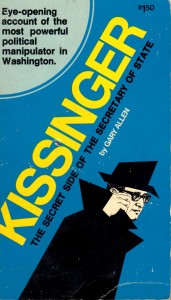 Strobe Talbott, Fmr. U.S. Deputy Sec. of State:
"In the next century, nations as we know it will be obsolete; all states will recognize a single, global authority.  National sovereignty wasn't such a great idea after all."
–1992
* * * Council on Foreign Relations is the policy center of the oligarchy, a shadow government, the committee that oversees governance of the United States for the international money power. * * *
CFR memberships of the Candidates
Democrat CFR Candidates:
Hillary Clinton
John Edwards
Chris Dodd
Bill Richardson
Republican CFR Candidates:
Rudy Giuliani
John McCain
Fred Thompson
Newt Gingrich
Mike Huckabee (just affiliated)
The mainstream media's self-proclaimed "top tier" candidates are united in their CFR membership, while an unwitting public perceives political diversity. The unwitting public has been conditioned to instinctively
deny such a mass deception could ever be hidden in plain view.
* * * Presidential Candidate & Congressman Ron Paul, Dennis Kucinich, and Mike Gravel are not members of CFR. These 3 are the only ones that work for the people, instead of being controlled by the secret societies that are working toward a one world government that will take away our rights and turn our country into a North American Union. * * *
Although many politicians hold membership, It must be noted that the Council on Foreign Relations is a non-governmental organization. The CFR's membership is a union of politicians, bankers, and scholars, with
several large businesses holding additional corporate memberships.
Corporate members include:
Halliburton of Dubai
British Petroleum
Dutch Royal Shell
Exxon Mobile
General Electric (NBC)
Chevron
Lockheed Martin
Merck Pharmaceuticals
News Corp (FOX)
Bloomberg
IBM
Time Warner
JP Morgan/ Chase Manhattan & several other major financial institutions
Here you can watch them going into their biggest meeting

:
ENDGAME
: BLUEPRINT FOR GLOBAL ENSLAVEMENT
A movie by Alex Jones (click on link below). It is a documentary about the plan for the one world government, population control and the enslavement of all the middle and lower class people. It's about 2:20 hrs. long but well worth the time. Only massive understanding of the information presented here will preserve liberty. There is actual footage of Bilderbergers arriving at meetings.
Be patient with the advertisement, and the loading time. It is well worth it.
Thomas Jefferson said:
"The price of freedom is eternal vigilance."
We add this:
"The battle for liberty is never won, and is never lost.
The battle for liberty always continues.
It is never too late, and it is never soon enough, to defend freedom.
No matter how enslaved we are, we always have hope.
No matter how free we are we are never safe.
NOTHING EVER LIMITS THE GOVERNMENT, EXCEPT THE PEOPLE.
Any generation that fails to defend freedom will lose it.
The next generation will have to shed blood to gain it back.
When the defense of liberty becomes a crime, tyranny is already in force. At that point failure to defend liberty makes slavery at certainty." John Perna
WARNING: This message has been intercepted and stored by the National Security Agency as part of its unlawful spying program on all Americans. The National Security Agency is the only part of the government that actually LISTENS to you. Do you wish that the government would read the Constitution? Just email it privately to your friends. What we formerly called "freedom of speech" we now call the "right to remain silent." BUT they will now claim that you DO NOT HAVE the right to remain silent… if THEY are asking the questions.
The Patriot Act is constitutionally illegal, but was signed into law takes away your rights and turns them into privileges, which the government can grant or take away at will. If you remember we were told that this would just be temporary. Now it has been made permanent. But no one protested did they?
=============
PLEASE PASS THIS MESSAGE ON
Please visit the ultimate resource for defending liberty.
CLICK HERE:
http://targetfreedom.com/
If you get a message that says "address is not valid" then copy and paste the address into the address bar.
This is the Most Extensive
Collection of Freedom Videos
Ever Compiled:
http://targetfreedom.com/videos-to-watch/best-collection-of-freedom-videos/
John Perna
My email is:
JPerna at sc.rr.com
which, if not censored, will show as:
JPerna@sc.rr.com
Are you looking for a book about defending liberty?
Many rare and out of print books are still available.
Look here:
http://americanistbookstore.com/
Then look here:
http://www.amazon.com/gp/aag/main/ref=olp_merch_name_6?ie=UTF8&asin=188191903X&isAmazonFulfilled=0&seller=A1AVPSERX4QF0E
If you get a message that says "address is not valid"
then copy and paste the address into the address bar.
—————
To be removed from my address book,
reply to this message with the word remove or unsubscribe in the subject line.
To be added to my address book,
reply to this message with the word add in the subject line.
Send this to JPerna at sc.rr.com
which, if not censored, will show as:
JPerna@sc.rr.com
V ~ For Victory
THE CORRUPT FEAR US.
THE HONEST SUPPORT US.
THE HEROIC JOIN US.
HERE IS your Free DISCOUNT Card FOR Prescription and Lab work. UP TO 75% OFF
JUST CLICK HERE:
http://www.freerxplus.com/FRP01505/en/Home.html
OR HERE:
http://targetfreedom.com/discounted-prescription-and-laboratory-service/
FOR MORE INFO:
Print Your Own and Get Paid to Hand out Free Prescription Discount Cards
or
Leave a Reply
You must be logged in to post a comment.