Marine Discharged for Quoting a Bible Verse
A Marine Has Been Court-martialed and Discharged for Having a Bible Verse on Her Computer
Did you think that the Marines were tough?
Think again.
They are afraid of this little lady: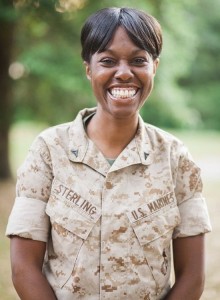 Did she have nuclear weapons?
NO!
Did she have biological weapons?
NO!
Did she have CHEMICAL weapons and poison gas?
NO!
Did she command a foreign army?
NO!
Was she the leader of an international terrorist organization?
NO!
So exactly what did she have?
She had a Bible verse taped to her computer!
This United States Marine was court-martialed for refusing to remove a Bible verse from her computer. 
According to official court documents, the military determined that this small verse of Scripture
"could easily be seen as contrary to good order and discipline."
So we are told that the Marine Corps is afraid that this little lady; armed with nothing but a Bible verse, could be a danger to the Marines!
Imagine that! And we thought that the Marines were brave.
Monifa Sterling was convicted at a court-martial for refusing to remove a Bible verse, which she had taped to the front of her computer. This little piece of paper read
"No weapon formed against me shall prosper."
Monifa Sterling had stated Isaiah 54:17 in the first person.
Isaiah 54:17 actually states: "No weapon formed against you shall prosper."
When Sterling refused to remove the verse, it was removed without her consent, and thrown into the trash. She promptly replaced it. What happened to Lance Corporal Monifa Sterling did not happen in a Communist country.
We might ask if this is "the hand writing on the wall",
but no Marine had better use that expression,
or they too might be charged with the crime of quoting the Bible. (SEE Daniel 5:1-31)
Monifa Sterling was given bad conduct discharge and a reduction in rank from lance corporal to private. Sterling is now unemployed and looking for work. A bad conduct discharge is a serious hindrance to finding a job. Any employer who knows the truth about this should see her courage as a commendation.
Sterling had represented herself in the initial hearings, and was unceremoniously thrashed. The travesty even included such an outrage as a ruling that displaying a Bible verse is not a religious exercise, which would be protected by law. Sterling is now represented by the Liberty Institute along with former U.S. Solicitor General Paul Clement, who recently won a Supreme Court victory on behalf of Hobby Lobby.
Liberty Institute attorney Michael Berry said "Restricting a Marine's free exercise of religion is blatantly unconstitutional."
The military has added a few totally frivolous, charges concerning

 Sterling's

uniform, to camoulage their own improper conduct. 
Now it is the Marine Corps, who is really on trial, in the court of public opinion. It is also The Department of Defense, and the Obama administration, who are on trial.
We have recently heard case after case, where dark skin was the only requirement for causing the Obama administration to become an aggressive advocate in the case. This has been true even in cases where the federal government had no jurisdiction. Here is a case 

which

 not only has federal jurisdiction, but one where the federal government is a party to the case. The Commander-in-chief of the armed forces could end this injustice with one phone call. Why does a robber, or a mugger, have the support of the President, but a religious marine does not? 
For more understanding of this we should watch the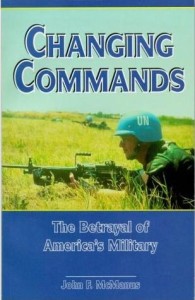 Thomas Jefferson said:
"The price of freedom is eternal vigilance."
We add this:
"The battle for liberty is never won, and is never lost.
The battle for liberty always continues.
It is never too late, and it is never soon enough, to defend freedom.
No matter how enslaved we are, we always have hope.
No matter how free we are we are never safe.
NOTHING EVER LIMITS THE GOVERNMENT, EXCEPT THE PEOPLE.
Any generation that fails to defend freedom will lose it.
The next generation will have to shed blood to gain it back.
When the defense of liberty becomes a crime, tyranny is already in force. At that point failure to defend liberty makes slavery at certainty." John Perna
WARNING: This message has been intercepted and stored by the National Security Agency as part of its unlawful spying program on all Americans. The National Security Agency is the only part of the government that actually LISTENS to you. Do you wish that the government would read the Constitution? Just email it privately to your friends. What we formerly called "freedom of speech" we now call the "right to remain silent." BUT they will now claim that you DO NOT HAVE the right to remain silent… if THEY are asking the questions.
The Patriot Act is constitutionally illegal, but was signed into law takes away your rights and turns them into privileges, which the government can grant or take away at will. If you remember we were told that this would just be temporary. Now it has been made permanent. But no one protested did they?
=============
PLEASE PASS THIS MESSAGE ON
Please visit the ultimate resource for defending liberty.
CLICK HERE:
http://targetfreedom.com/
If you get a message that says "address is not valid" then copy and paste the address into the address bar.
This is the Most Extensive
Collection of Freedom Videos
Ever Compiled:
http://targetfreedom.com/videos-to-watch/best-collection-of-freedom-videos/
John Perna
My email is:
JPerna at sc.rr.com
which, if not censored, will show as:
JPerna@sc.rr.com
Are you looking for a book about defending liberty?
Many rare and out of print books are still available.
Look here:
http://americanistbookstore.com/
Then look here:
http://www.amazon.com/gp/aag/main/ref=olp_merch_name_6?ie=UTF8&asin=188191903X&isAmazonFulfilled=0&seller=A1AVPSERX4QF0E
If you get a message that says "address is not valid"
then copy and paste the address into the address bar.
—————
To be removed from my address book,
reply to this message with the word remove or unsubscribe in the subject line.
To be added to my address book,
reply to this message with the word add in the subject line.
Send this to JPerna at sc.rr.com
which, if not censored, will show as:
JPerna@sc.rr.com
V ~ For Victory
THE CORRUPT FEAR US.
THE HONEST SUPPORT US.
THE HEROIC JOIN US.
HERE IS your Free DISCOUNT Card FOR Prescription and Lab work. UP TO 75% OFF
JUST CLICK HERE:
http://www.freerxplus.com/FRP01505/en/Home.html
OR HERE:
http://targetfreedom.com/discounted-prescription-and-laboratory-service/
FOR MORE INFO:
Print Your Own and Get Paid to Hand out Free Prescription Discount Cards
or
Leave a Reply
You must be logged in to post a comment.