Ron Paul Speech at Tampa Sun Dome – Aug 26 2012
http://www.youtube.com/watch?v=4HWEShWsSDo&list=UUiqRq2mT_bBPMRhHap684Ig&index=1&feature=plcp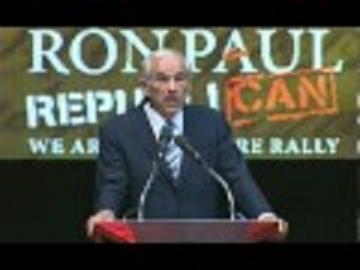 This is the full unedited Ron Paul Speech at Tampa Sun Dome on Aug 26 2012. What other candidate has such large rallies, with such enthusiastic support?       We saw vote fraud, delegate intimidation, hidden & stolen votes. Even police power was being used to control our political process. At the Louisiana GOP State Convention a properly elected 70 yr old handicapped delegate was attacked by police. His hip was broken, and he was taken away on a stretcher.  All of this happened in front of scores of witnesses with cameras. Did you see this on TV?
Visit:
Police Break Bones of Ron Paul Delegates    
http://targetfreedom.com/cfr/police-break-bones-of-ron-paul-delegates/   
and view:
Conventions were closed without a motion to adjourn. Electricity was turned off.    In Massachusetts duly elected delegates, who would not signed an affadavit to vote for Romney, were replaced by others who had not been elected.    None of this conceals the real popularity of Ron Paul, and the principles of liberty, as anyone can see by watching this video. Now we are told that we must vote for the lesser of 2 evils. Which one is that: the Communist or the Fascist?   
Romney Obama the Same- TWEEDLEDEE OR TWEEDLEDUM   
http://www.youtube.com/watch?v=bHwEugWlI1o&list=UUiqRq2mT_bBPMRhHap684Ig&index=7&feature=plcp 
WATCH THE FULL RON PAUL PLAY LIST AT:
https://www.youtube.com/playlist?list=PL53A7FC2A09EAE7A3
  OTHER SPEAKERS:  
 Gary Johnson's Speech at THE RON PAUL Fest Tampa 08-25-12   
http://www.youtube.com/watch?v=cmXaQg2GSTA&list=UUiqRq2mT_bBPMRhHap684Ig&index=1&feature=plcp   
=================
Tom Woods Speaks at THE RON PAUL Fest Tampa 8-25-12   
http://www.youtube.com/watch?v=_g-y5OU5_Jw&list=UUiqRq2mT_bBPMRhHap684Ig&index=1&feature=plcp    
===================
   Thomas Jefferson said:
"The price of freedom is eternal vigilance."
I add to this:
"The battle for freedom is never won, and is never lost.
The battle for freedom always continues.
It is never too late, and it is never soon enough, to defend freedom.
No matter how enslaved we are, we always have hope.
No matter how free we are we are never safe.
NOTHING EVER LIMITS THE GOVERNMENT, EXCEPT THE PEOPLE.
Any generation that fails to defend freedom will lose it.
The next generation will have to shed blood to gain it back"
            John Perna
When the defense of liberty becomes a crime, tyranny is already in force. At that point failure to defend liberty makes slavery at certainty.     
                                                          John Perna
Watch the rest of the videos on this channel to make this a clear.
johnperna2's channel:
http://www.youtube.com/user/johnperna2?feature=mhee
Please visit the ultimate resource for defending liberty.
CLICK HERE:
 

 

 

 

Ron Paul buttons and bumper stickers: