Trump's Immigration Ban – Will We Have Judges With Blood On Their Hands?
There are 47 predominately Muslim nations. President Trump wants to limit travel from only seven terrorist countries..
A federal appeals court panel has now ruled against President Trump's limits on travel from those seven terrorist countries; setting up a potential showdown in the Supreme Court. 
The three-judge panel hearing the case included Judges William C. Canby Jr., a Jimmy Carter appointee; Richard R. Clifton, a George W. Bush appointee; and Michelle T. Friedland, a Barack Obama appointee.

Sen. Tom Cotton (R-Ark.) said
"No foreigner has a constitutional right to enter the United States and courts ought not second-guess sensitive national-security decisions of the president."
Sen. Cotton called the Ninth Circuit "the most notoriously left-wing court in America."

Trump spoke briefly to reporters, calling the ruling "a political decision," according to NBC News.
These three judges have now decided that innocent Americans do not have a right to live: 
Muslim Cleric Has Scary Message About Muslim Refugees In U.S. & Europe
https://www.youtube.com/watch?v=JCqNw4t4VhE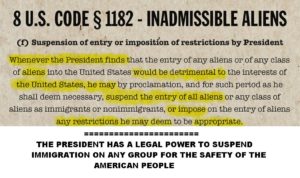 The judge who originally issued the injunction was Judge James Robart. His decision was based on a false assertion, which he stated in open court. Judge Robart stated the incorrect assumption that no terrorist acts had been committed by individuals from these countries. This has since been proven to be false.
PLEASE PASS THIS MESSAGE ON
Thomas Jefferson said:
"The price of freedom is eternal vigilance."
We add this:
"The battle for liberty is never won, and is never lost.
The battle for liberty always continues.
It is never too late, and it is never soon enough, to defend freedom.
No matter how enslaved we are, we always have hope.
No matter how free we are we are never safe.
NOTHING EVER LIMITS THE GOVERNMENT, EXCEPT THE PEOPLE.
Any generation that fails to defend freedom will lose it.
The next generation will have to shed blood to gain it back.
When the defense of liberty becomes a crime, tyranny is already in force. At that point failure to defend liberty makes slavery at certainty." John Perna
WARNING: This message has been intercepted and stored by the National Security Agency as part of its unlawful spying program on all Americans. The National Security Agency is the only part of the government that actually LISTENS to you. Do you wish that the government would read the Constitution? Just email it privately to your friends. What we formerly called "freedom of speech" we now call the "right to remain silent." BUT they will now claim that you DO NOT HAVE the right to remain silent… if THEY are asking the questions.
The Patriot Act is constitutionally illegal, but was signed into law takes away your rights and turns them into privileges, which the government can grant or take away at will. If you remember we were told that this would just be temporary. Now it has been made permanent. But no one protested did they?
=============

Please visit the ultimate resource for defending liberty.

CLICK HERE:

http://targetfreedom.com/
If you get a message that says "address is not valid" then copy and paste the address into the address bar.
This is the Most Extensive
Ever Compiled:
http://targetfreedom.com/videos-to-watch/best-collection-of-freedom-videos/
John Perna
My email is:
JPerna at sc.rr.com
which, if not censored, will show as:
JPerna@sc.rr.com
Are you looking for a book about defending liberty?
Many rare and out of print books are still available.
Look here:
http://americanistbookstore.com/
If you get a message that says "address is not valid"
then copy and paste the address into the address bar.
—————
To be removed from my address book,
reply to this message with the word remove or unsubscribe in the subject line.
To be added to my address book,
reply to this message with the word add in the subject line.
Send this to JPerna at sc.rr.com
which, if not censored, will show as: