Waitresses Carry Loaded Guns at Shooters Grill in Rifle, Colorado
Many stores and restaurants are telling people not to bring their guns inside, but one western Colorado restaurant not only embraces the practice of packing heat, it encourages its customers to carry openly — and its waitresses do, too.
As she takes your order at Shooters Grill in the town of Rifle — yes, Rifle — waitress Ashlee Saenz carries a pad, pen and a loaded Ruger .357 Blackhawk revolver holstered on her leg, Old West style.
It's loaded, and she knows how to use it.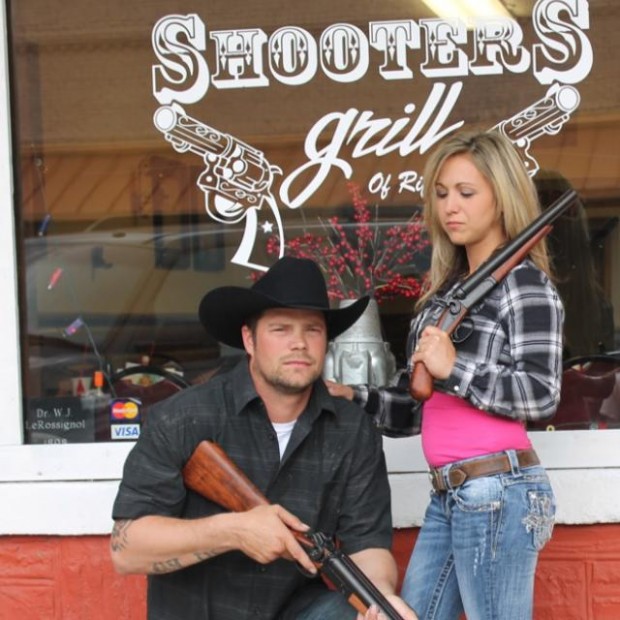 Colorado is among the states where openly carrying a gun in public is legal. The issue has made headlines after gun rights activists carrying loaded rifles gathered in Target stores in Texas, Alabama and North Carolina to demonstrate their support of "open carry" laws. On Wednesday, Target Corp. asked its customers "respectfully" to not bring firearms into stores, even where allowed by law.
But in Rifle, Saenz, her co-workers and her customers at Shooters Grill are encouraged to bring their holstered guns in the restaurant, The Glenwood Springs Post Independent reports (http://bit.ly/1nOVk8R ).
State law allows local governments and businesses to prohibit guns in their buildings, but a sign on Shooters' front door reads: "Guns are welcome on premises. Please keep all weapons holstered unless need arises. In such case, judicious marksmanship is appreciated."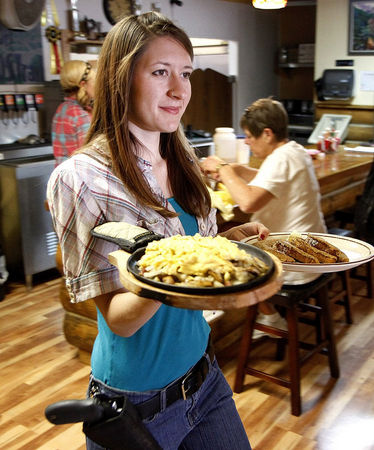 Shooters also hosts training that qualifies customers for Colorado and Utah concealed weapon permits. The $75 price tag includes dinner.
Shooters owner Lauren Boebert said she's simply allowing customers and employees to exercise their constitutional right to bear arms.
"We encourage it, and the customers love that they can come here and express their rights," Boebert said.
She chose the restaurant's name last year as a nod to its gun policy.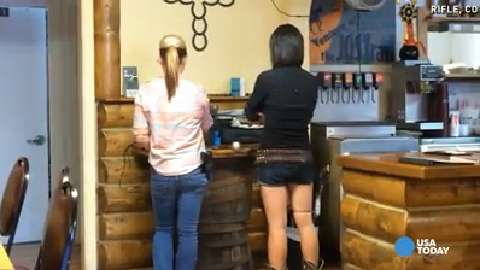 "I consulted with my Christian friends and everyone said 'Shooters' sounded like a bar or a strip joint," Lauren Boebert said with a laugh. "But I thought, this is Rifle — it was founded around guns and the Old West. We called it Shooters and started throwing guns and Jesus all over the place."
The restaurant offers American and Mexican fare, and it doesn't serve alcohol.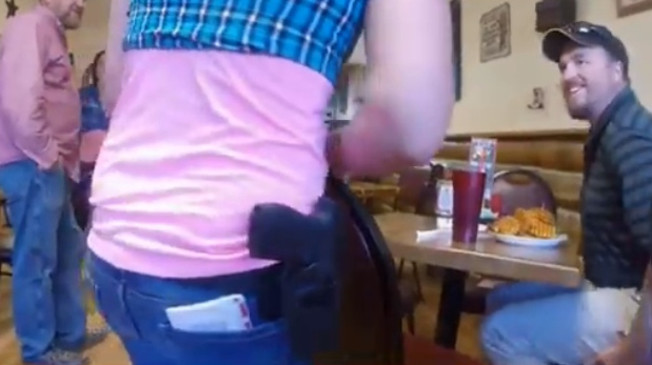 Customers on a recent morning had no problem with the presence of firearms.
Wayne and Martha Greenwald, visiting from Grand Marais, Michigan, welcomed the restaurant's policy.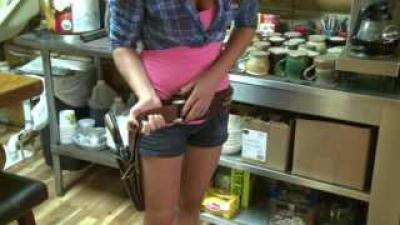 —"We think it's just fine. We're very positive about it," Wayne Greenwald said. "We carry guns ourselves and own a rifle, shotgun and handguns. We live in a very small town and we take care of our own crime problems."
A group that supporters gun restrictions told the newspaper it favors concealed carry over open carry because that requires the person to have training and meet other requirements to obtain a permit. Other Colorado laws, including universal background checks for gun sales, a 15-round limit on firearm magazines and a ban on online-only concealed-carry training, continue to be topics of intense debate.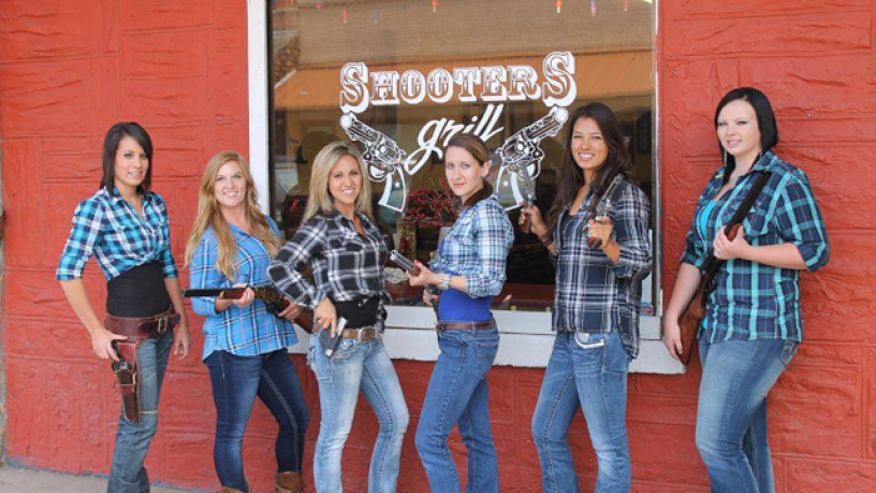 "We stand behind the Second Amendment, but we don't encourage people to carry guns as a public display in places like stores or restaurants," said Jennifer Hope, the Colorado chapter leader for the national Moms Demand Action for Gun Sense in America.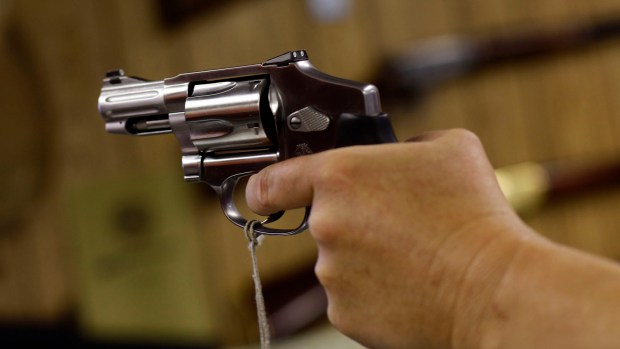 Thomas Jefferson said:
"The price of freedom is eternal vigilance."
We add this:
"The battle for liberty is never won, and is never lost.
The battle for liberty always continues.
It is never too late, and it is never soon enough, to defend freedom.
No matter how enslaved we are, we always have hope.
No matter how free we are we are never safe.
NOTHING EVER LIMITS THE GOVERNMENT, EXCEPT THE PEOPLE.
Any generation that fails to defend freedom will lose it.
The next generation will have to shed blood to gain it back.
When the defense of liberty becomes a crime, tyranny is already in force. At that point failure to defend liberty makes slavery at certainty." John Perna
WARNING: This message has been intercepted and stored by the National Security Agency as part of its unlawful spying program on all Americans. The National Security Agency is the only part of the government that actually LISTENS to you. Do you wish that the government would read the Constitution? Just email it privately to your friends. What we formerly called "freedom of speech" we now call the "right to remain silent." BUT they will now claim that you DO NOT HAVE the right to remain silent… if THEY are asking the questions.
The Patriot Act is constitutionally illegal, but was signed into law takes away your rights and turns them into privileges, which the government can grant or take away at will. If you remember we were told that this would just be temporary. Now it has been made permanent. But no one protested did they?
=============
PLEASE PASS THIS MESSAGE ON
Please visit the ultimate resource for defending liberty.
CLICK HERE:
http://targetfreedom.com/
If you get a message that says "address is not valid" then copy and paste the address into the address bar.
This is the Most Extensive
Collection of Freedom Videos
Ever Compiled:
http://targetfreedom.com/videos-to-watch/best-collection-of-freedom-videos/
John Perna
My email is:
JPerna at sc.rr.com
which, if not censored, will show as:
JPerna@sc.rr.com
Are you looking for a book about defending liberty?
Many rare and out of print books are still available.
Look here:
http://americanistbookstore.com/
Then look here:
http://www.amazon.com/gp/aag/main/ref=olp_merch_name_6?ie=UTF8&asin=188191903X&isAmazonFulfilled=0&seller=A1AVPSERX4QF0E
If you get a message that says "address is not valid"
then copy and paste the address into the address bar.
—————
To be removed from my address book,
reply to this message with the word remove or unsubscribe in the subject line.
To be added to my address book,
reply to this message with the word add in the subject line.
Send this to JPerna at sc.rr.com
which, if not censored, will show as:
JPerna@sc.rr.com
V ~ For Victory
THE CORRUPT FEAR US.
THE HONEST SUPPORT US.
THE HEROIC JOIN US.
HERE IS your Free DISCOUNT Card FOR Prescription and Lab work. UP TO 75% OFF
JUST CLICK HERE:
http://www.freerxplus.com/FRP01505/en/Home.html
OR HERE:
http://targetfreedom.com/discounted-prescription-and-laboratory-service/
FOR MORE INFO:
Print Your Own and Get Paid to Hand out Free Prescription Discount Cards
or
Leave a Reply
You must be logged in to post a comment.