The "No Gravy Train for Illegal Aliens" Law
The "No Gravy Train for Illegal Aliens" Law
http://targetfreedom.com/illegal-immigration/the-no-gravy-train-for-illegal-aliens-law/
Solution to illegal immigration: stop subsidizing it.
"If you subsidize something you get more of it." -Ron Paul
Here is a way to stop illegal immigration that will work better than a wall.
This method costs nothing.
This method DECREASES costs.
PLEASE SEND THIS TO PRESIDENT TRUMP
PRESIDENT TRUMP wants to hear from US
This is for your ideas, thoughts, stories, to help Make America Great Again! Here's your chance!! VOICE your ideas – they're trying to listen!
and here:
For an education on what causes our problem
 TRY THIS:
Buy a bird feeder. Hang it on your back porch and fill it with seed.
Within a week you will have hundreds of birds taking advantage of the continuous flow of free and easily accessible food.
But then the birds start building nests in the boards of the patio, above the table, and next to the barbecue.
Then they start making a mess. Poop everywhere: on the patio tile, the chairs, the table: everywhere.
Then some of the birds turn mean:
They dive bomb and try to peck even though YOU have fed them.
Others birds become boisterous and loud: 
They sit on the feeder and squawk and scream at all hours of the day and night and demand that you fill it when it is low on food.  
After a while, you will not even be able to sit on your own back porch anymore.
You take down the bird feeder and in three days the birds are gone.
You clean up their mess and take down the many nests they had built all over the patio.
Soon, the back yard is like it used to be: quiet, serene and no one demanding the right to a free meal.
Our government gives out free food, subsidized housing, free medical care, free education and allows anyone born here to be an automatic citizen.
Now the illegal's come by the hundreds of thousands.  
Suddenly our taxes went up to pay for free services:
Small apartments are housing 5 families.
You have to wait 6 hours to be seen by an emergency room doctor.
Your child's 2nd grade class is behind other schools because over half the class doesn't speak English.
Corn Flakes now come in a bilingual box.
You have to press "one" to hear a bank talk to you in English.
Press "two" to be connected to a school that teaches English.
Now we have people waving foreign flags and squawking and screaming in the streets, demanding more rights and free goodies.
Maybe it's time for the government to take down the bird feeder. 
After we stop subsidizing illegal immigration,
and after we
cut off federal funding to "sanctuary cities",
we might have saved more than enough money to build the wall,
even if the Mexicans do not pay.
Maybe then we would not even need a wall,
because the illegals aliens would have no incentive to come here.
If you agree, pass this on.
IF YOU CROSS THE NORTH KOREAN BORDER ILLEGALLY YOU GET 12 YEARS HARD LABOR.
IF YOU CROSS THE IRANIAN BORDER ILLEGALLY YOU ARE DETAINED INDEFINITELY.
IF YOU CROSS THE AFGHAN BORDER ILLEGALLY, YOU GET SHOT INSTANTLY WITH NO TRIAL.
IF YOU CROSS THE SAUDI ARABIAN BORDER ILLEGALLY YOU WILL BE JAILED.
IF YOU CROSS THE CHINESE BORDER ILLEGALLY YOU SIMPLY DISAPPEAR AND NO ONE WILL EVER KNOW WHAT HAPPENED TO YOU. YOU MAY NEVER BE HEARD FROM AGAIN.
IF YOU CROSS THE VENEZUELAN BORDER ILLEGALLY YOU WILL BE BRANDED A SPY AND  YOUR FATE WILL BE SEALED.
IF YOU CROSS THE CUBAN BORDER ILLEGALLY YOU WILL BE THROWN INTO POLITICAL PRISON TO ROT.
IF YOU CROSS THE U.S. BORDER ILLEGALLY YOU GET:
1 – A JOB,
2 – A DRIVERS LICENSE,
3 – SOCIAL SECURITY CARD,
4 – WELFARE,
5 – FOOD STAMPS,
6 – CREDIT CARDS,
7 – SUBSIDIZED RENT OR A LOAN TO BUY A
HOUSE,
8 – FREE EDUCATION,
9 – FREE HEALTH CARE,
10 – A LOBBYIST IN WASHINGTON
11 -MILLIONS OF DOLLARS WORTH OF PUBLIC DOCUMENTS PRINTED IN YOUR LANGUAGE
12 – AND THE RIGHT TO CARRY YOUR COUNTRY'S FLAG WHILE YOU PROTEST THAT YOU DON'T GET ENOUGH RESPECT.
IS THIS RIGHT ???
The suggested full version of "No Gravy Train for Illegal Aliens" Law :
This was originally written as a way that THE STATES could get relief, since the Federal Government was failing to do their job.
Now it is also suggested to our more responsible Federal Government.
The Federal Government, States, towns or counties can make it a crime to provide illegal aliens with anything whatsoever. The state legislators can stop illegal immigration. Now it is also suggested to our more responsible Federal Government.
The previous federal government had failed, and refused, to secure our borders.
What part of the word "illegal" do they not understand? And illegal aliens is what they are. They are not "undocumented workers", just as drug dealers are not "undocumented pharmacists".
For every law, that the federal government fails to enforce, States, the counties, and the municipalities, can pass a similar law. Then the states, counties, AND local police can enforce those laws.
Yet we should all know that pests will not infest a house where they cannot obtain what they need to live.
EACH STATE, EACH COUNTY, OR EACH MUNICIPALITY SIMPLY PASSES A LAW THAT MAKES IT ILLEGAL TO PROVIDE ANYTHING WHATSOEVER TO AN ILLEGAL ALIEN. Tell the illegal aliens of the world that there is no longer a reason for coming here.
Pass the "NO GRAVY TRAIN" LAW.
Now it is also suggested to our more responsible Federal Government.
From the government sector:
It shall be illegal, by STATE and  Federal  LAW, to provide anything at all to illegal aliens including, but not limited to:
Welfare, food stamps, medicaid, driver's license, business license, government housing, tax supported education, or any OTHER ASSISTANCE.

There will be no tax deductions for payments to illegal aliens.
It shall be illegal, by STATE and Federal  law, to do anything at all for an illegal alien including, but not limited to:
Rent housing, sell real estate, sell vehicles or mobile homes, make loans, sell insurance, provide employment, provide indigent care, cash checks, enroll students, or provide transportation other than BACK to their country of origin.
Prosecuting EITHER the American citizen OR the illegal alien would deter the transaction, but prosecuting BOTH the American citizen AND the illegal alien would be best. Illegal aliens would find that they have nothing that they could do here; except to go home.
We ask The Federal Government, the States, county, and municipal legislators to pass the "No Gravy Train for Illegal Aliens" Law!
 If anyone does not understand how serious illegal immigration is, just look what it did to the White House. One foreign student over stayed his visa, stole a dead man's social security number, and became the President.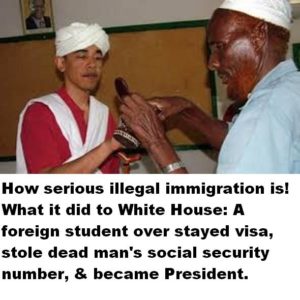 Federal Laws already exist, but are not being enforced
8 USC Sec 1325 – Illegal Entry
Any alien who enters U.S. other than at A port of entry by false or misleading representation shall be subject to civil and criminal penalties can be fined and imprisoned
Section 1324a  Hiring – Harboring – Transporting any illegal alien
Any person who knowingly hires/harbors/ transports any illegal alien is guilty of a felony punishable by 10 years jail + $2,000 fine per illegal alien + forfeiture of vehicle or property used to commit the crime.
Section 1324c  Law officers have authority to make arrests…
All officers whose duty it is to enforce criminal laws shall have authority to make arrests for violation of any provision of this section (affirmed US vs. Perez-Gonzalez 2002 Fed App 0360, 6th Circ.) Section 1324a Hiring – Harboring – Transporting any illegal alien.
Section 1644
No local ordinance, rule, or measure shall stop law enforcement officers from enforcement of this section (affirmed Southern District Court of NY, US vs. Rudy Giuliani, 1996.
NOTE: all immigration violations are criminal – not civil offenses.
HAVING BEEN THE PRESIDENT OF THE US SHOULD NOT EXEMPT AN ILLEGAL ALIEN FROM ENFORCEMENT OF THESE LAWS, OR FROM DEPORTATION.
Here's what the Border Patrol says about deporting Illegals:
Read our lips, NO AMNESTY! Your continuous defeatist rhetoric about "we just can't deport 12 million people" got old a long time ago. Repeating it ad nauseam doesn't make it any more truthful. Secure the border, cut off the jobs and free government handouts, start hammering greedy employers who hire illegal aliens, and watch them make a run for the border, heading south by the millions. Many of them will "self-deport".
If you had this same defeatist attitude about Iraq, Saddam Hussein would still be in power. We're not buying your amnesty sales pitch down here in the real world. Maybe you can explain to us why we're risking our lives to stop the same people you keep encouraging to come in by the millions with your incessant pro-amnesty speeches ("guest-worker", "earned legalization", etc.)
In 1954 under President Dwight D. Eisenhower the United States Border Patrol, with just over 1,000 agents, was able to remove over 1,000,000 (one million) illegal aliens from the United States. This took approximately one (1) year. It is a documented fact that the vast majority (over 75%) of the illegal aliens who left this country "self deported" when they saw that the American government was serious about enforcing the law. We now have over 10,000 Border Patrol agents in this country. We also have improved communications, and we are able to transport people more efficiently. It should be no problem to send 10,000,000 illegal aliens back home in a year with an aggressive enforcement effort. Those are the plain facts. People can make excuses all day long. However, history proves that this defeatist attitude is dead wrong. Provide evidence that the task is too large. The bottom line is that the people of this country (who are supposed to be running things) want our immigration laws enforced, but many politicians simply lack the will to let us do our jobs properly. What Mr. Bush really means is that he and others lack the intestinal fortitude to see our laws enforced. You might even say it's "hard work" to enforce the laws. As the radical pro-illegal immigration activists like to say, "Si, se puede".
The Invasion Called Refugee Resettlement
VIDEO:
http://targetfreedom.com/terrorism/the-invasion-called-refugee-resettlement/
——–
Are we not told that Illegal immigrants are just here to work?
Are we not told that they are doing jobs that Americans do not want?
Of course, if this were true, then they could have come in LEGALLY. We take more LEGAL immigrants than any other country in the world.
Who is it that does not go through that process?
So we give them a job! We sentence them to hard labor… building a wall at the United States border. We give them a chance to prove that they are here to contribute. If they pass the test, then we can let the apply for legal status.
If they do not pass the test, then we send them back.
We send them back AS SOON AS it is clear that they do not pass the test.
——-
Illegal Immigration Issue of The New American Magazine
The "Illegal Immigration" Special Report of The New American Magazine. (2006) Single Issue Magazine – 2006 by The New American Magazine (Author)
http://americanistbookstore.com/books/illegal-immigration-issue-of-the-new-american-magazine/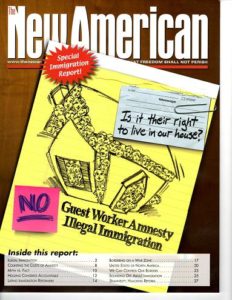 http://www.amazon.com/dp/B003NI3GX4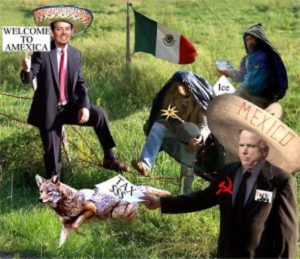 =================
PLEASE PASS THIS MESSAGE ON
Thomas Jefferson said:
"The price of freedom is eternal vigilance."
We add this:
"The battle for liberty is never won, and is never lost.
The battle for liberty always continues.
It is never too late, and it is never soon enough, to defend freedom.
No matter how enslaved we are, we always have hope.
No matter how free we are we are never safe.
NOTHING EVER LIMITS THE GOVERNMENT, EXCEPT THE PEOPLE.
Any generation that fails to defend freedom will lose it.
The next generation will have to shed blood to gain it back.
When the defense of liberty becomes a crime, tyranny is already in force. At that point failure to defend liberty makes slavery at certainty." John Perna
WARNING: This message has been intercepted and stored by the National Security Agency as part of its unlawful spying program on all Americans. The National Security Agency is the only part of the government that actually LISTENS to you. Do you wish that the government would read the Constitution? Just email it privately to your friends. What we formerly called "freedom of speech" we now call the "right to remain silent." BUT they will now claim that you DO NOT HAVE the right to remain silent… if THEY are asking the questions.
The Patriot Act is constitutionally illegal, but was signed into law takes away your rights and turns them into privileges, which the government can grant or take away at will. If you remember we were told that this would just be temporary. Now it has been made permanent. But no one protested did they?
=============

Please visit the ultimate resource for defending liberty.

CLICK HERE:

http://targetfreedom.com/
If you get a message that says "address is not valid" then copy and paste the address into the address bar.
This is the Most Extensive
Ever Compiled:
http://targetfreedom.com/videos-to-watch/best-collection-of-freedom-videos/
John Perna
My email is:
JPerna at sc.rr.com
which, if not censored, will show as:
JPerna@sc.rr.com
Are you looking for a book about defending liberty?
Many rare and out of print books are still available.
Look here:
http://americanistbookstore.com/
If you get a message that says "address is not valid"
then copy and paste the address into the address bar.
—————
To be removed from my address book,
reply to this message with the word remove or unsubscribe in the subject line.
To be added to my address book,
reply to this message with the word add in the subject line.
Send this to JPerna at sc.rr.com
which, if not censored, will show as:
JPerna@sc.rr.com
V ~ For Victory
THE CORRUPT FEAR US.
THE HONEST SUPPORT US.
THE HEROIC JOIN US.
HERE IS your Free DISCOUNT Card FOR Prescription and Lab work. UP TO 75% OFF